Irregularities on the wheels and on the tracks cause noise and vibrations and these cause damage to the components of both the vehicle and the rail.
Both the wheels and the rails develop almost sinusoidal irregularities, known as ripple. Although the effects of irregularities are basically the same, regardless of whether they occur on wheels or tracks, the mechanism by which most types of irregularities occur differs significantly.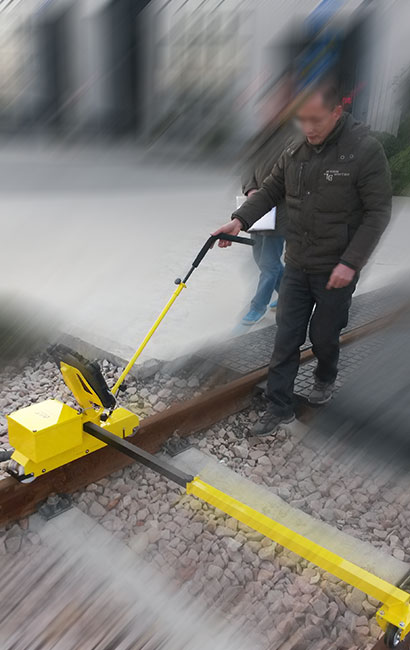 Corrugation Trolley
Wave Partner II
 Wave Partner II proposes a new approach to rail inspection, it is an automatic inspection  trolley system required for an objective, fast and reliable quality assessment of railways.
The Wave Partner II is a portable corrugation measurement trolley  is suitable for all kind of rails included the U-Rail type. The wavelengths (10 ÷ 1000mm) are precisely measured with a 3μm accuracy. The Wave Partner is the necessary inspection instrument to verify the condition of the rail before and after the grinding. The Wave Partner generate an immediate qualitative and numerical report in order to predict a proper maintenance action or check the quality of the grinding. The user-friendly software allows any operator to manage the instrument from the very first moment.
The measurement trolley combine solid structure with reduced dimensions and low weight. The operator in the line, through a suitable handle, pushes the trolley. The main structure of the trolley leans on three wheels. The trolley insulate the wheels on the two rails. So the line will be not affected electrically.
Main components of the Measurement Trolley:
No. 4 Eddy Current Measurement Groups (each Rail in doble head);

Rugged PC;

Encoder;

Rechargeable battery pack;

Signal conversion & PC's Interface
The control and visualization unit consists of a military rugged PC with integrated graphical functions.
The main functions implemented by the unit are:
Start/Stop acquisition cycle;

Input line and operator identification data;

Input comments from the operator;

Controls and data storage;

Display the functionality of the device;

Display the Longitudinal rail profile during the real time acquisition (no corrugation)
The Post-Processing software allows the operator to full post process the acquired data. It can be installed on a laptop or desktop PC (not included).
The data transfer can be done either by:
Ethernet connection;

Wireless connection;

Bluetooth Connection;

USB Flash disk;

Cloud Connection ( not included, optional );
The Post-Processing software makes calculations to integrate data acquired and, give the following functionalities:
Rail Corrugation graphical visualization, filtered in the four wavelengths, Peak to Peak, Filtered and RMS;

Longitudinal Profile graphical visualization without any Fourier decomposition: Sampling rate ≤2.0mm and magnitude express in Peak to Peak each 250mm;

Selection of comparison thresholds;

Visualisation of the points out of tolerance;

Storage of the detected data;

Generation of report in excel;

Printing Tools Suite.
Overall Dimensions:

Mounted Wave Partner: 1500 x 640 x 780 mm;

Mounted Handle bar: 1320 x 600 x 15 mm

Approx. weights:

Mounted Wave Partner: 10 Kg;

Mounted Handle bar: 2 Kg

Working Condition: -20°C ÷ +50°C

Protection: IP64

Min / Max rail gauge: 1420÷1460 mm

Wheels: PVC

Battery charger with power supply: 110 ÷ 220V AC

Wave Partner Autonomy of the battery: > 8 hours

Rugged PC Autonomy: > 3 hours

Max measurement speed: 5 Km/h

Measurement wavelengths:

Very short: 10 ÷ 30 mm;

Short: 30 ÷ 100 mm;

Medium: 100 ÷ 300 mm;

Long: 300 ÷ 1000 mm;

Precision of measurement:

+/-10um – very short;

+/-10um – short;

+/-20um – medium;

+/-30um – long;

Electrically insulated: yes

Wheels for U-Rail shape: yes (Optional)
GPS;

U-Rail;

Cloud Monitoring System;

Double measurement head;

Frontal Camera for Environmental acquisitions ( Special Configuration )